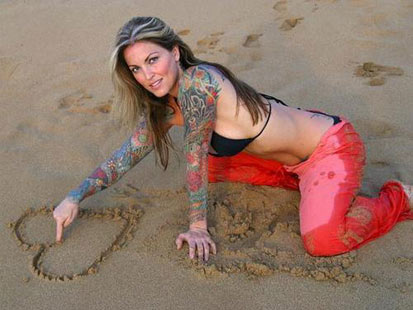 Sandra Bullock's life is about to get worse as new
reports
are saying that Jesse's ex-wife is the one causing havoc on America's best actress.
Following Jesse's apology for his "bad judgment," sources who know Sandra say that they believe the tabloid stories breaking after her Oscar win are not just Jesse and Michelle "Bombshell" McGee's doing.
"I guarantee you Jesse's ex-wife, Janine Lindemulder, had a hand in this," claims Sandra's close friend. "[Jesse and Janine] hate each other, and, remember, there was that horrible custody fight."
Played out in the tabloids, the custody fight over the former couple's child, Sunny, ruled in Jesse's favor. Sandra was helping Jesse raise his six-year-old daughter while Janine went to prison for tax evasion and battled drug recovery.
Perhaps this is Janine's way of getting back at Jesse and Sandra for "taking" her baby girl. Both Janine and Bombshell are tattooed porn stars, a look that Jesse is obviously into. By telling the world about Jesse's affair, Janine may be trying to get back at Sandra and prove that step-mom doesn't always know best.
Do you think there is any truth to this story?