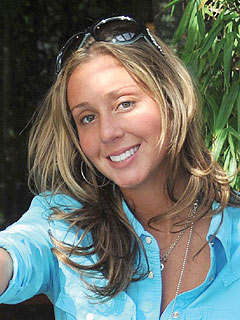 Home wrecker and party animal Hailey Glassman may have moved on from Jon Gosselin, but she is still itching to stay in the spotlight. The self-proclaimed "ultimate Jewish American Princess" is now in the running to star in a new reality show pegged as the Jewish version of Jersey Shore.
"I'm the ultimate JAP," Glassman joked. "Besides Judaism, David Yurman is our religion! I could teach youngsters how to be good JAPS... wear black spandex and Uggs, only drink Pellegrino and never, ever drink tap water."
Hailey thinks she would be perfect for the role because, "the media always makes fun of the things I say and the way I talk." Earth to Hailey! The media is really just making fun of your childish behavior and obsession with father of eight Jon Gosselin.
Aside from the obvious poor casting choice, the show will portray Jews in a negative light. The term Jewish American Princess is considered to be derogatory because of its elitist, snobby connotation, and a show centered on Jewish girls with money is the last thing the world needs. Even worse, having Hailey as the 'Snooki' of the show will only further ruin the world's perception of nice Jewish girls.
"We JAPS have what I like to call entitlement syndrome," she says. "I only wear designer brands, I don't eat meat off the bone, I drink Fiji water or Pellegrino. I would rather die of dehydration than drink tap water. My signature outfit is black spandex, Uggs and white v-neck t-shirts. It's a different mentality."
I've got news for you Hailey: this JAP does not consider herself to have entitlement syndrome. I have been working since grade eight, my closet welcomes off-the-rack merchandise, I don't eat meat at all and I would rather drink Brita than bottled water. I'm with you on the spandex and Uggs for lounge days, but David Yurman is not my religion. You're right - it is a different mentality.