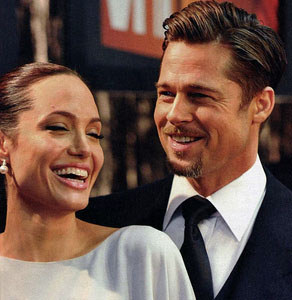 Details of fictitious weddings have littered tabloid magazines since they began dating, but now there may be some truth to the rumor. Hollywood's golden couple, Brad Pitt and Angelina Jolie, once
revealed
that they would not tie the knot until "everyone else in the country who wants to be married is legally able." The parents of six got their wish today as California's controversial Prop 8 law was
overturned
, legally allowing same-sex couples to marry. Now that everyone else has the privilege of saying their I Dos, Brangelina should make good on their promise and begin planning their ceremony. Wouldn't Knox and Viv make an adorable ring bearer and flower girl?
UPDATE:
Currently, New Hampshire, Iowa, Massachusetts, Vermont, Connecticut, D.C. and California are the only states that have legalized same sex marriages. This may not be enough to get Brange running to the alter, but it's still a momentous occasion.
Thanks for the tip Lauren!